Seeburg Jukebox Cabinet Keys
The keys I offer are for the original factory installed cabinet locks that open lids, front and back doors.
They will not fit cash box doors or non-original cabinet locks.
Every cash door lock is unique and there is no standardized source for them. If you're missing the key to your cash box door, there are two solutions: Replace the lock or have a locksmith fit a new key.
Need a replacement lock for your cashbox? See my lock page

Pre-War (1942)
I need your help completing the listing below.

| | | |
| --- | --- | --- |
| 8200 | C1440 | Front and back door locks |
| 8800/9800 | C1440 | Front and back door locks |
| 8800/9800 | K1870 | Titleboard Lock |
If you have a Seeburg built before WWII with the original lock and matching key, please email me with the model of the jukebox with the key number/s and which lock/s it fits.

Pre-War Keys
The Following Numbers are Currently Available.
M1100, M1400, C1440, W1500, W1550, K1600, W1700 & K1870
$12 Each
Seeburg Pre-War Keys: Select from the drop-down menu below
Post-War Models
Seeburg P146-147-148 Keys
The L7325 and L7380 are both used on Seeburg models P-146, 147 & 148.
This is what the face of your lock and key slot should look like on a "Trashcan" model.

One key fits the lid and the other fits the front and back doors.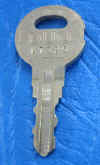 Seeburg L7325 Front & Back Door Key $10
Seeburg L7380 Lid Key $10
Cabinet Keys for Seeburg models 100-A thru SMC
All Seeburgs the locks listed below are Illinois type and should look the lock below. Except the for the SMC1 & 2 models.

Early models like the 100A, B and C will have an antique copper or bronze finish, the V200 is gold and all models after should be chrome as shown.
The G219 fits the 100-A & 100-B Models.

G219 Key $6.99

The G245 fits the 100-C model.

G245 Key $6.99

The F221 Key fits the 100-G & 100-W models.

F221 Key $6.99

The F279 key fits the 100-J/JL & 100-R models

F279 Key $6.99

The F314 key fits the V200 and VL200 Models

F314 Key $6.99

The F313 key fits the KD/KS-200, L100, 101, 161 & 201 Models

F313 Key $6.99

The F264 key fits the 220, 222, AQ100/160, Q100/160, AY100/160 & DS100/160 Models

F264 Key $6.99

SEP1

The F282 key fits model SEP1 Seeburg Encore units.

F282 Key $6.99

Models: 200LU1, 200LU2, 200LU3

The F234 fits Seeburg Library Units with the lock located in the glass front door.

F234 Key $6.99

BMS/BMC

(Background Music System)

The L290 key fits the BMS/BMC (Background Music System) players.

One looks like a microwave oven, the other sort of like a portable sewing machine.

L290 Key $6.99

The F278 key fits the LPC-1 & LPC-480 models.

F278 Key $6.99

The F330 key fits the U100 Mustang Model.

F330 Key $6.99

The F336 key fits the PFEA1U Electra, AFEA1U Fleetwood & SS-160 Showcase Models.

F336 Key $6.99

The F205 key fits the S100 Phonojet, LS1 Spectra, LS2 Gem, LS3/325 Apollo and SE100 GoldenJet Models.

F205 Key $6.99

The F291 key fits the USC1 Bandshell & USC2 FireStar Models

F291 Key $6.99

The F293 key fits the SX100 Marauder, SPS-160 Olympia, FC1 Regency, SPS2 Matador, SL100 Carnival, SQS160 Quad, STD160 Vogue, STD2 Entertainer, SB100 Magnastar, FC2 Hutch, 100-77D Topaz, STD3 Sunstar, 100-78D Celestia & STD4 Marti Gras models

F293 Key $6.99

The S102 key fits the SMC1 Disco & early SMC2 Phoenix models

The lock is unique to these two models only.

(Notice the extra teeth in the key slot)

S102 Key $8.99

The F333 key fits the Late SMC-2 Phoenix, all SMC3 Prelude Models.

F333 Key $6.99

SCD-1 SCD1-A

This key fits the Seeburg SCD models

F723 $6.99

VMC-1

The G440 key fits the VMC1 "Video Music Center"

G440 $6.99
Seeburg Back Door Locks
Exact replacement Illinois back door locks for Seeburg 100A-DS160
$20 Each
Seeburg Cash Door Locks
Exact replacement Illinois back door locks for Seeburg 100A-DS160 (will fit up to the LS2)
$20 Each