I've set up this page for two proposes:
A: So I can show some of the nice emails I get from customers
And B: To help newcomers feel more comfortable when making first time orders

I received the key for my Seeburg Mardi Gras jukebox, I was overjoyed that it actually was the correct key and opened it perfectly!
Thank you very much, Bill
Hi John, key arrived. Fits both locks perfectly. Thanks again.
Rob
Thank you very much John. What they say on Jukebox Addicts site about you is definitely true you're a stand up guy with a good reputation. A pleasure dealing with you.
John,

I got the keys to my inherited jukebox today and they work perfectly. I even found a stash of quarters in the cashbox!
Thank you for the professional and prompt service, my friend.
John,
I wanted to let you know that the PR505 worked! It was a little hard inserting it, but turned nicely and opened the door. The box also started right up when we plugged it in and got cold quickly.
My son-in-law is ecstatic. Thanks for you help.
My order was received very fast. Shipping was very inexpensive. And your communication was great. Thank you for such good customer service. I will definitely do business with you again.

Regards

Got the soda key today. Works great!
Was looking for this one for the last 16 years!
Jim
John,
I'm new to the jukebox refurbishing world - been playing around with these jewels for only 5 years, but I had to write you an email and thank you for a great product!

I purchased some rubber revitalizer from you several months ago and I am just getting around to testing it. 

It has literally turned my AMI F120 idle wheel rubber into a new wheel! The RPMs are back up to 45 & it's wonderful. I had taken the turntable motor apart and cleaned but it just wouldn't hit 45rpms, but once I utilized your product it worked perfect. 

Thanks!!

Don G
Received the WUA1 key today, works better than original !
Thanks so much !!
Paulie
Hi John,

I wanted to let you know that I received the Seeburg LS1 Spectra key yesterday and it works PERFECTLY!!
So glad I found your website!
Thanks! -Dan
Keys received! And they work like a charm. Locks turned like they were new.
Just for your reference, your guess at the
PR501 did, in fact, fit both locks
Hi John,

Back in June I purchased a .7 mil diamond cartridge for my Wurlitzer 1800, and it sounds GREAT. I couldn't believe the difference. I had almost given up on my 1800 because it sounded so bad, even after I replaced the cartridge with a new one I had purchased from another company. I don't know if the specs are different from the other one I had purchased elsewhere, but the difference is amazing. Just about any 45 I play sounds good, whether mono or stereo. Previously only some of the mono records I have sounded decent, others I couldn't even listen to. I definitely would like to purchase 2 more to keep as future replacements.

Best regards,
Jack G
I got the key, this Vendo 81's door has been locked for more than 20 years, can't believe it's open.
Thanks John! Keith
I got the key today, It worked like a charm. I had not seen the inside of this machine since the 70's.
Thanks for the key! Leon
Thanks, John. Got my idler wheel a couple of days ago and it works perfectly. Even though yours looked radically different, it's the bomb.
Wally
Just wanted to drop you a note. I received the belts, and they work perfect. 

Thank you.
Curtis T
Hi John , The new needles sound Great ! thanks ! Steve's Jukebox Sales

Received today and are thrilled! We have an old re-done Vendo machine that we keep cokes and beer in....lost the key 3 years ago when we moved...it works!
Thank you! Kim W

John,

The key for our coca-cola machine arrived from you today, and IT WORKS! ALLELUIA!

THANKS SO much for helping us solve this dilemma

K Seymour

John, Received the Pot in the mail today. Installed it in 15 minutes.
I am glad to say I no longer have to put up with the scratchy, sensitive adjustment of the volume on my Wurlitzer 1900 any more.
Don't know why I waited as long as I have to fix this problem, other than I couldn't find a replacement until now.
Thank-you for having this in stock and making it available , and for your excellent customer service.
Best regards,
Alex Provan

Thank you!!!
-Jake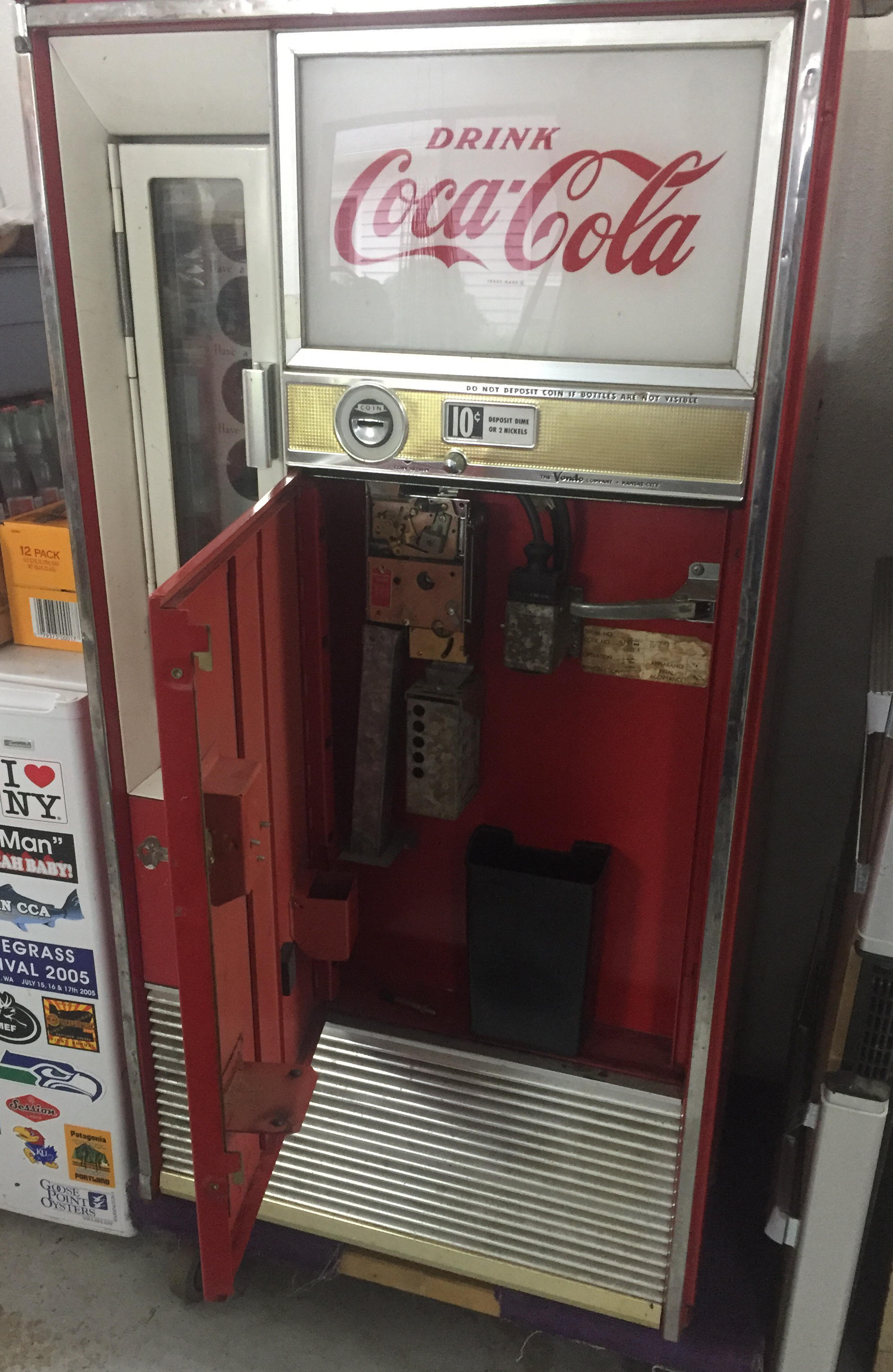 Hi, 
I received the TN4 cartridge & stylus for my Rock-Ola 445. Soldering the thin wires was a challenge but it all fits and sounds great so the juke is back up and rocking on a small Greek island again.
I've had my 445 for 40 years and I keep it running with help from guy's like you.

Many thanks for your fast delivery.

Chester Smith
Alonnisos Greece

Just wanted to write and say thanks! My wife gave me a Rowe-AMI R-91 for a wedding gift. I'm not even worthy. The new belt and stylus really woke this thing up. It sounds great! Shipping was quick. Just wanted to give some feedback, you guys rock.
Thanks again!
Chris

Just wanted to thank you for speedy service the needle works great and after installing it the music is great!! thanks again
Sean P.


I received the key I purchased from eBay (no S020) for my Seeburg wallbox
Just to let you know the key fit perfect. I am so happy with it that I thought I would drop you a line to let you know how grateful I am.

Many thanks & best regards Dave C

I received my package and tried the .7-mil needle on my Zenith Cobra-Matic. It hasn't sounded that good in years. This needle is far superior to any of the NOS 1-mil needles I've been using. It tracks the groove better, produces less tonearm chatter, and provides a clearer sound from the speaker. I'll be ordering a couple of spares very soon.


Dear needles4jukeboxes.com,

Hi John. Just to let you know your wise words were very helpful. The wallbox I had purchased had not been used for some time so the key would just not insert. But after reading your words and some gentle persuasion, all is now good - so thanks so much. Best regards Wayne


John -
I received the two cartridges for my Rockola 1434 and the mech belt. It was a bit of engineering to get the carts mounted. I had to hunt down some tiny 2-56 screws and nuts and do a bit of grinding on the inside of the arm so they would fit.
The new cartridges sound surprisingly good. Excellent fidelity and strong output. Even on worn records. (they have the 3-mil needles). I am very pleased. I doubt if this old jukebox has ever sounded so good.
* jimmy day* Reisterstown, MD 21136

Geez John,
If you had mailed my keys any faster I wouldn't have had time to order them.
Thanks & Regards
George


Just a note to let you know. This is the best Service, Quality, and Price on the internet.
Thank You Richard Culp
Indialantic, FL.


Just a quick note to let you know that I received your package today with my Wurlitzer needles and replacement key. Not only was the order expedited and received in the mail faster than I thought, but your prices were far better than anyplace I have seen online. I am a new owner of this jukebox and needed assistance locating the proper needle. Thanks for responding to me quickly and answering all my questions. By the way....the music sounds better now with a new needle. Thanks again for your help and excellent customer service. Lonnie Ray

Hello,

The Key has arrived and works perfectly.
Thank you very much!

Greetings from Germany
R. Krupp

John, We received our Seeburg Jukebox needles today and I am pleased to say, they are the perfect needles for our jukebox. We are once again reminiscing while playing our records. Our grandchildren & great grandchildren are fascinated with the way it works & plays. I have just ordered another pair of the same needles to have as a back up. We will definitely be recommending you and are so pleased with your company, prices and service.
Have a pleasant evening, Fran

You guys rock! Record time shipping and I am up and running.

John,
I received the two P51 cartridges I ordered from you just a short time ago and received then much faster than I expected. I am replacing Astatic l-30 and they drop in just fine.
Thank you for the quick service.

John,
just a quick thank you for the great service. ordered a key for my wall mount box on Tuesday and it arrived 2 days later and worked perfectly. this is what customer service is all about!!
Rod

Thank you for prompt service to other side of world.

Received the M44MR this morning, amazingly quick for international shipping. Cleaned it up a little, installed it and sounds great!
I had a Shure M44-7 in there before, essentially the same cartridge but the mounting was different and it didnt sit correctly in the arm causing the bottom to drag on records occasionally. The M44MR fits perfectly!
Thanks! Adam


I just wanted to send you a note expressing my complete satisfaction with your company. I had recently purchased a 50 + year old vintage tabletop jukebox that had no key and was locked. I found your website and decided to give it a try. I have to admit that I was skeptical that you could make a key that worked after all of these years. I was more concerned about the unit, not your key making ability. The $10 fee was worth a chance to see if it would work. I wish you could have seen my smile on my face when the key turned and I was able to open the box.

Thank you very much for your quick response and quality work.

I was tired of the Gas Springs in my CD-100 jukebox not being able to hold the lift door open (common problem). I was afraid to buy cheap "substitutes" on eBay and Amazon and the retail amusement suppliers want an arm and a leg for their parts. Then I found Needles4jukeboxes and ordered "exact replacement" Gas Springs" for my CD-100 - and that's what I got - the exact same part as originally used. I received them in only 3 days and they work perfect. Thanks for the great service.

Terrence Nelson
Naperville, IL

Hi John,

just wanted to thank you again for the quick turnaround on the cartridges and drivebelt for my Wurlitzer 2000. I'm listening to it now, and it's a real pleasure to have it working again and sounding so much better than before!

Many thanks again & all the very best
--
Paul Vreede

John,
Just a quick note to say "you saved me!
I recently bought a Seeburg 1000, the man said he put the key in one of the boxes but isn't quite sure, but insists it's here.
I tore apart all the shipping material and looked through all the boxes, no key. Went to your website and lo and behold, you have a key for the background music machine, so I ordered it. You saved me from drilling out the lock, something I hate to do.
THANK YOU!!!
Edward Bowmaker

Hey John,
Just wanted to let you know the key arrived this morning. I was a little apprehensive as I approached the unit because I wasn't 100% sure if it was a factory lock since the guy I bought it from said it was the same lock he uses in his pin games. Anyway, the key fit like a glove, the door opened and now I can load it up and fire this baby up!
Thanks again. I will never drill out another lock until I see you first!
Ed

Hello John,

The key you made arrived today. It worked perfect. Thank you.

I am very happy with your service. You made the key very promptly and mailed it out. Keep up the
great work. I would highly recommend your business.

Best Regards,
Tim Roden
Windsor, CA.

Hi John: Received my new keys just two days after I ordered them – rushed home, holding my breath – will they fit? YES!!!!!! Slipped right in like a glove, opened the jukebox right up. Feels like a safety net knowing your website is out there. Thanks again!
Janice White

Hi, I just wanted you to know that the GE VRII needle works great ! I had my Bogen record player out on the back porch for my son's birthday party.. Kids love records..

** My neighbor went home and brought over a Barry Manillo album to play :-( Copacabana is still lousy :-0

Many thanks for the helpful comments..
A very happy customer..

Adam Czepiel - Old Saybrook, CT.

Received my key today. My first time using your company – I'll be back.
What Great Service !!
Thanks
Bob Hunter

After 2+ years searching for the correct bulb for my animation unit
for my Rowe/AMI JBM-200 Tropicana, your web site easily identified the
correct one. Because I did not have the old bulb, it was very
difficult to find the correct one. I blew many fuses as I searched for
the right one. Thanks to you, no more blown fuses. Thanks again.
James
NJ

Just thought I would drop you a line about the Wurlitzer wallbox key (WXC-77) I purchased from you.
It worked flawlessly! Perfect fit! Thank goodness, I was about to drill the lock when I found your listing. I would highly recommend your key service to all.
Many thanks,
David Guarino

Hi, I received the gas springs today for my SMC 1, they are great. I had been looking for a long time.
Thank you, Ken from Shawnigan Lake B.C. Canada

Hello John,

My Astatic #51 needles showed up today. What incredibly fast service!
I'm stunned that they arrived this quickly even though I'm in Massachusetts. I've already installed
one and the improvement in sound is dramatic. I've been getting my juke in working order since I
acquired it a couple of years ago. I've got it all working now and the new needle was the final piece. I
thought it sounded good before but now it really sounds great.

Thanks again.
Alan Lang


John, It is a pleasure to work with someone like you, who
has the customer and his Company in mind.
James Westbrook

The needles arrived today in perfect condition, thank you so much. I have a 100JL that has been with me since 1975 and though it still works fine (with an amplifier rebuild by a local jukebox wizard), It was probably about time for new needles. The tone arm and cartridge were changed before I purchased it so it was nice to be able to figure out which needles I needed with the pictures on your website. Once again, thank you. If I need anything else for the jukebox, you'll be the first place that I will look.
Live long and prosper, from the Great White North
Yours, Brian.

Hi John,
Glad to report that I received my new needles in the mail. That was very prompt. Thank you once again.
Robert

Thanks for the quick service. Needle was easy to replace and really seemed to make a difference in the sound quality as well as helping with the ejection to next record. I'll certainly recommend your services.

Until next time,
Carroll

John,
Thank you so very much for all of your help!! I placed the order for my needles moments ago.
I must tell you that I have not found anyone, without exception, who has been as helpful, knowledgeable, courteous & friendly as you have been in all of my online shopping needs!!
I will pass your name & website on to all that I know who can find it useful for their needs.
I know you will continue to succeed in your business as you are second to none!
Thank you again!

Thank you Thank you!!!!!!!!!!!! The needles I ordered from you worked. I will be ordering another set from you just to make sure I have them. I can't believe the guy I ordered the first set from couldn't come up with the right needle. He sent 2 wrong ones and that was after I sent him all the information and pictures. Once again Thanks my Juke box is now working.
Jill Struck


Thank you very much for the new needles. My juke box sounds great now. It has been a pleasure doing business with you.
Teena Klein
Canada

I just received the needles for my Seeburg 100-R, they are great! I previously purchased a pair with straight tips and they really didn't sound very well, but yours with the angled tips are fantastic!! You have a customer for life.
Josh Hartley
NY NY

John,
My jukebox belts arrived in just 2 days and they fit perfectly. This is my 3rd order and another fast and easy transaction. I'll be back!
Jim Sealy
Bakersfield CA

Hi,

Thank you so much for shipping my order very quickly! Everything arrived in good condition. The key fits perfectly, and other items are exactly as needed. It's a pleasure doing business with you! Thanks!

Regards,

Ron Keuler
Chilton, WI


Received the keys today in the mail. They were just what I needed. Thanks so much
Nana Warchock


Hi John.

I finally installed my new P-132 cartridge I got from you into my Wurlitzer
3100. The install was quite easy...much easier than I thought. You were
correct that the only change was to convert the "plug" to "pins".
The sound is significantly better than the original cartridge. In fact, I
find it quite clear and crisp for a ceramic cartridge. Thanks for you info
and your help...I am truly impressed with the installation ease and sound
quality.

Charles

I just placed my order on your site. Thanks again for your (very quick) help and advice!

Got my keys quick, worked great, thanks!
Susan Keller

I bought what I thought was a good deal on ebay and got some terrible sounding needles. After talking with John I decided to try his product. Wow! Was I surprised, great sound and perfect fit, well worth what turned out to be a great value.
Thanks again!
Bob Stevens
St Louis, MO

Thanks for the quick shipping, fresh needles made my juke sound like new again.
Jeff Duncan
Australia

I placed my order Friday evening and was pleasantly surprised to received my needles Monday. The needles worked fine. Thank you for such great service.
Thomas Leas

Super customer service, Thanks John!

Dave Spencer